On The Spot realizes pet stains can occur at any time and on any surface.
We consider this to be an emergency due to the nature of the problem. Urine, feces, and vomit all present different situations in carpet, tile, grout, padding, cement, upholstery and mattresses. Enzyme treatments can be safely applied to all surfaces to provide full sanitization from the unwanted proteins. Our resulting final product will be a completely residue free surface which is safe for both people and pets.

Upon request we offer a full line of anti-allergen and green products, for our sensitive, allergy-prone client.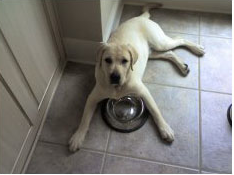 Injection Services
We also offer injection services for the hard to reach areas such as cement under padding or behind baseboards. We recommend you call us immediately when you realize this has occurred. Ozone treatments are another solution for unwanted odors.